The schedule may be changed due to circumstances of the Training Center, so please check it with your local church.
2021 Schedule for Great Works (Live Broadcast)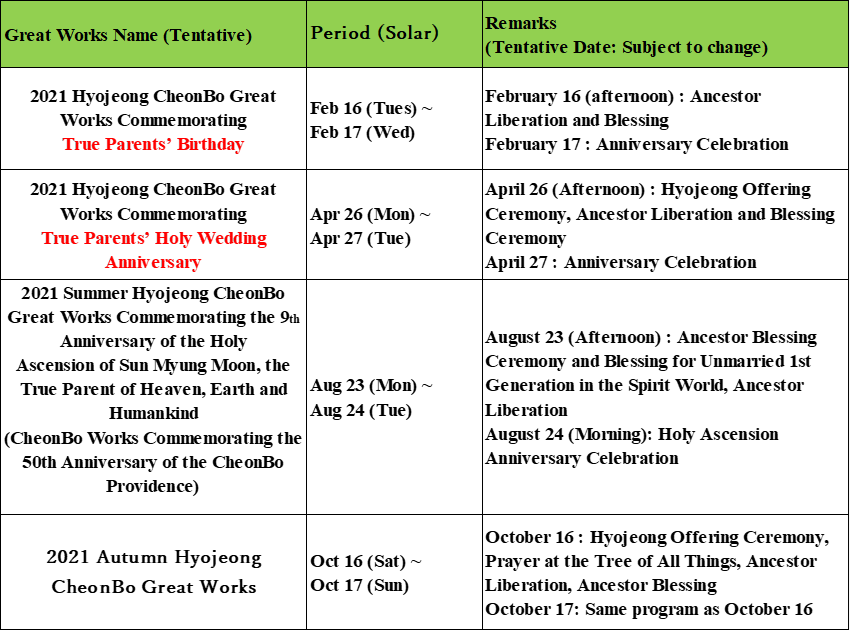 * Schedule and workshop name may be subject to change.
Schedule for the 2021 CheonBo 2-day Workshops [Ancestor Blessing will be conducted once a month]

* Up until the Holy Ascension Anniversary on Aug 24, 2021 members can liberate and bless 430 generations at once.
BUS – Blessing for Unmarried 1st Generations Spirits
S&P M – Spirit World and Physical World Matching Ceremony
S&P B – Spirit World and Physical World Blessing Ceremony
S&P S – Starting Family Life as a Spirit World and Physical World Blessed Family
GW 1 – 2021 Hyojeong CheonBo Great Works Commemorating True Parents' Birthday
GW 2 – 2021 Hyojeong CheonBo Great Works Commemorating True Parents' Holy Wedding Anniversary
GW 3 – 2021 Summer Hyojeong CheonBo Great Works Commemorating the 9th Anniversary of the Holy Ascension of Sun Myung Moon, the True Parent of Heaven, Earth and Humankind
GW 4 – 2021 Autumn Hyojeong CheonBo Great Works
Hyojeong CheonBo 40-Day Workshop: Postponed until further notice
Blessing for Unmarried Spirits

Spirit World, Physical World Blessing Workshops (Live Broadcast)